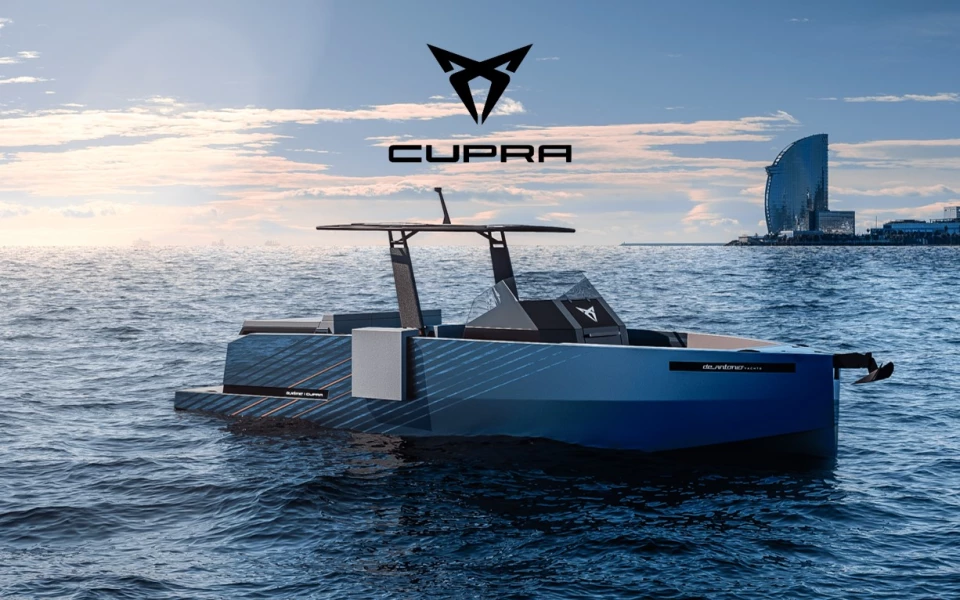 1 Feb 2021
De Antonio Yachts presents the D28 De Antonio CUPRA
Two Barcelona companies with broad international projection and a differentiating product join forces to launch the D28 De Antonio CUPRA, a unique piece that was born from the renowned De Antonio Yachts D28 Open in collaboration with the car brand. The 28-foot boat features exceptional performance and maximum comfort over eight meters in length. Its design is the result of a commitment to innovation in the nautical sector and its fine and avant-garde lines characterize this model that exudes contemporaneity.
The D28 has the entire deck at the same level offering different areas of solarium with seats and tables both in the bow and aft. The high level of use of space provides a feeling of incomparable spaciousness. Even with a maximum capacity of up to ten people, the D28 is the ideal day boat. In addition, the boat has a 400 hp Mercury outboard motor, hidden under the aft sundeck, for a very comfortable navigation at cruising speed.
The perfect touch for the sportiest ones is provided by the customization of CUPRA, offering special Petrol Blue paint finishes with the graphics and iconic elements of the automobile firm. It is complemented by distinctive upholstery, lighting accents and a unique deck finish that adds extra sportiness and style.
The result is a spectacular model in every way that will delight nautical and automotive lovers. A boat that does not leave indifferent and will set a precedent in the sector, being an exclusive collector's item.
Both companies are benchmarks in their respective sectors, so this first collaboration is a commitment to the future that lays the foundations for a synergistic relationship in which the best talent from their creative teams comes together. That is why 2021 will be loaded with news for the two Spanish brands, which are already working on hybrid versions of their products and new launches for 2022.
Marc de Antonio- Co-founder and head of design at De Antonio Yachts. "It is a collaboration that makes us especially excited for being two brands born in Barcelona, ​​two companies that are committed to design and innovation as fundamental pillars of our business. We are very satisfied to be able to unite the talent of our teams so that they project the best of CUPRA and De Antonio Yachts ".
Stanislas Chmielewski- Co-founder and commercial manager at De Antonio Yachts. "The D28 De Antonio CUPRA single edition will give us visibility as a brand beyond the nautical sector and will strengthen us in our international expansion. It is undoubtedly the beginning of a very special collaboration that will give the two companies positioning and project the lifestyle we share ".
Antonino Labate, Director of Strategy, Business Development and Operations at CUPRA. "The shared vision between CUPRA and De Antonio Yachts to inspire the world from Barcelona has no borders. With this collaboration we are transferring the high performance of our vehicles from the street to the sea, with a unique style and design to generate emotions. This is just the beginning, because our future ambition is to work together to create a hybrid boat. "


De Antonio Yachts presenta el D28 De Antonio CUPRA | Nautica&Yates (nauticayyates.com)


Download the Antonio Yachts catalogue with detailed information about each boat.